The Key To A Successful Move Is Preparation.
Don't underestimate this step. Properly packing your belongings and preparing them for moving and storage requires organization and planning – and always a few more boxes than you think! That's why it's good to start early by gathering all the supplies you need.
We understand that moving can be hectic and that's why we want to help smooth things out and lighten the load! Public Storage has got you covered for all your moving supply necessities. Check out our complete range of diverse products and discover the best ones for your moving situation.
* Please note that certain items may not be available at all locations; cylinder lock is required at select properties; sizes are approximate; and prices are subject to change without notice. Prices may vary between regions; AB, BC, ON, QC. Please call for store specific pricing.
Finding the Right Types of Boxes for Your Upcoming Move
Boxes are one of the most important items for moving. They can keep your possessions safely protected, are relatively easy to carry, and stackable for easy transportation and storage. While you may have some boxes lying around your home, they may not necessarily be the right fit or durable enough for the job.
As you read on, you'll learn why boxes designed for moving is your best option and how to identify what boxes will work best for your upcoming move.
Moving Boxes
Box for Electronics
$9.99
This high quality corrugated box may be used to safely pack, ship and store electronics products. Double walled box can handle loads up to 100 lbs.
Dimensions:
(20″L x 20″W x 12″D)
Dish Box
$10.99
This box has extra strength protection for your fragile dishes and glasses. Double walled box that can handle loads up to 100 lbs. Suggested use for 7" glasses and dishes.
Dimensions:
(28″L x 18″W x 18″D)
Extra Large Box
$6.89
This box is ideal for packing large bulky items, blankets, linens, etc. It works well for packing lampshades, clothes or light weight items. Can handle loads up to 65 lbs.
Dimensions:
( 22″L x 22″W x 22″D)
Why You Should Use Purpose-Built Moving Boxes
While you already may have boxes lying around your home that you've decided could be part of your move, it is important to know that not all boxes were designed for transporting goods and storing them for the long haul. Boxes that have served as packaging for previously-purchased home items or empty produce boxes from the grocery store are typically shipped within a protective pallet or outer container, and so they are not necessarily sturdy enough on their own to serve as reliable moving/packing-grade boxes.
Boxes that have also been used to pack other items have likely endured wear and tear that brand new moving boxes have not. To keep your belongings as safe as possible during a move, it is important to keep them in new boxes that were designed to endure the physical lifting, stacking, and weight load that naturally occurs during a move.
To maximize the safety of some of your more fragile items during a move, there are specific boxes especially designed to secure items such as kitchen dishes and glassware, mirrors, and household electronics.
What Size Boxes Do You Need for Moving or Storage?
The first step in deciding what size boxes you require is taking an honest look at how many items in your home will need to be packed. Organizing the packing process by grouping items according to size and room of origin is a good way to determine what size of boxes you need.
Commonly, purchasing a mix of box sizes will keep you covered during your move and will give you sufficient variety when it comes to safely storing items in your home. It's easy enough to assume that you can simply go with a bunch of large boxes by default – the larger the box, the more you can fit, right? In reality, though, big boxes can cause problems, like being too heavy to lift, frustrating to unpack, and liable to create broken items by being overfilled.
For ease of use, moving boxes come in many different sizes to help organize your items more easily and to store and transport them safely. The following box sizes exist for packing and moving your items:
Extra Small (1.0 cu ft): Ideal for small, yet heavy items, or compact items like CDs and DVDs
Small (1.5 cu ft): Ideal for items such as books or shoes
Medium (3.0 cu ft): Ideal for toys, clothes, and miscellaneous home appliances
Large: (4.5 cu ft) Ideal for bulky home items such as pots, pans, linen and pillows
Extra Large (6.0 cu ft): Ideal for larger or hefty items such as lampshades and outerwear
How Many Boxes Are Typical For A Move?
The number of boxes required for your move can be better identified based on the number of rooms you will be moving into and the square footage of your space. Follow these guidelines to get a better understanding of what size of boxes you'd require and how many:
Total Number of Boxes by Total Number of Rooms
| Apartment Size | Box Size XL | Box Size L | Box Size M | Box Size S | Box Size XS |
| --- | --- | --- | --- | --- | --- |
| Studio | 4 | 10 | 13 | 4 | 5 |
| 1 Bedroom | 6 | 13 | 15 | 6 | 8 |
| 2 Bedrooms | 8 | 16 | 18 | 9 | 10 |
| 3 Bedrooms | 13 | 20 | 22 | 11 | 15 |
Total Number of Boxes by Square Footage of Your Home
| Square Feet | Box Size XL | Box Size L | Box Size M | Box Size S | Box Size XS |
| --- | --- | --- | --- | --- | --- |
| 700-900 ft2 | 4 | 7 | 11 | 16 | 12 |
| 900-1200 ft2 | 7 | 10 | 13 | 20 | 15 |
| 1200-1600 ft2 | 10 | 13 | 16 | 25 | 20 |
| 1600-1800 ft2 | 15 | 16 | 20 | 30 | 25 |
Advantages of Buying Moving Boxes
For a successful move, it makes sense to invest in brand new boxes designed to withstand the physical demands of moving and to bear the weight load of storing household items. Such boxes will help with making the process a lot easier. Here are a few advantages to buying Public Storage moving boxes:
New moving boxes come in multiple sizes and types. No matter what you're storing, a wide variety of moving boxes are available to safely pack your items, regardless of weight or dimensions. They are specifically designed to handle goods of all shapes and sizes, and include specialized boxes for such items as dishware, mirrors, lamps, HDTVs, and more. Using the correct box for your items reduces the chances of breakage during your move.
New moving boxes are more hygienic. When you grab boxes that are second-hand, you have no idea where they've been or what materials they've been exposed to. Don't take chances! Public Storage offers brand-new boxes that will keep your household items clean, dust-free and dry both during your move and in storage. With these boxes, you avoid the risk of potential residue, dirt, damage, or other contaminants that you might get with second-hand boxes.
New moving boxes are stronger. Public Storage boxes are durable and can withstand the weight of bulkier or heavier items to make them easier to handle during a move. With sturdier cardboard, these boxes stay intact without the risk of buckling or splitting open in comparison to second-hand boxes.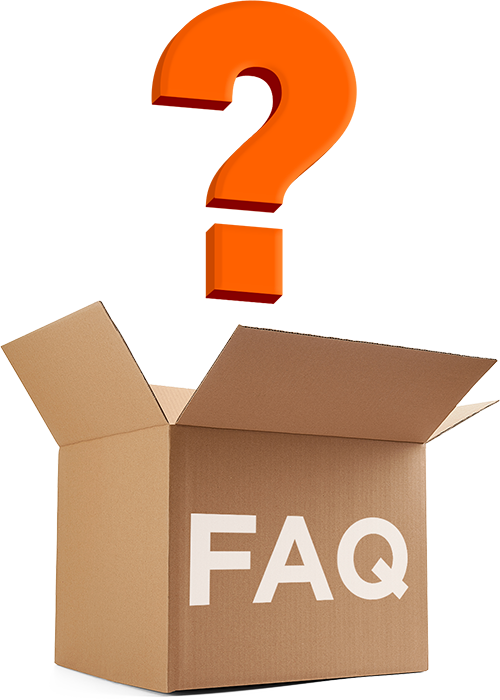 What size boxes do you need for moving?
The size of boxes you need for a move will vary, but a combination of small, medium, large, and extra large boxes is recommended for your move, so you can pack various items without overloading the boxes or making them too heavy to lift.
How many boxes is typical for a move?
The number of boxes you need for a move will vary. As a best practice, try to estimate and plan out how many boxes you will need to ensure you're ready for moving day, and have a couple of extras on hand, just in case.
Get Your
Packing Supplies
at a Public Storage
Location Near You
Environmental Initiatives
Public Storage boxes are 100% recyclable,
and are made with 45-60% recycled materials.