Storage Auctions
British Columbia
Vancouver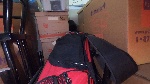 Pickup Location:
Public Storage P0040 - Terminal Ave, 663 Terminal Ave, Vancouver, BC
Time Left:
2 days, 19 hours, 18 minutes
Ontario
Quebec
Public Storage (PS Canada Company ULC, PS Canada Company Two ULC, and Public Storage Canadian Properties) will sell the contents contained within the spaces, belonging to the delinquent accounts listed below. Sales will occur by way of online competitive bidding at public auction via third party online auction site, starting at 10:00 am local time on the date noted. Auctions will be scheduled to close on the dates noted, however may close at any time up the end of the same month. Auctions will be open for competitive bidding for a minimum of three days. All auctions details, start and end times can be found by following the link next to the account listing. All sales are conducted to recover rent and expenses owing. Please note that these auctions may be removed or delayed at the discretion of Public Storage, and tenants may pay amounts owing to secure the contents of the spaces up to end of business the day before the auction close time/date.